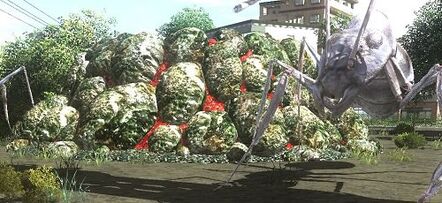 Anthills, simply called Holes in 2017 and Tunnel Exits in 2025 and 4.1, are static spawners which appear in many EDF games. In story terms they represent exits from the massive underground tunnel complexes of the game's giant insects. They will only ever spawn giant insects; while in Insect Armageddon this includes bio-mechanical insects, there is no game where they are capable of spawning robotic enemies.
Global Defence Force
Anthills first appear in Global Defence Force: in Monster Attack the only type of spawner was the Carrier. They first appear in mission 21: Shut Down after the destruction of the above-ground insect hive, and are said to be exits from burrows that lead to the massive underground nest. They can spawn any type of giant insect, including flying ants.
EDF 2017
In 2017, Holes are destroyed by dealing sufficient damage to them. They also drop several random items upon destruction.
EDF: Insect Armageddon
In Insect Armageddon, anthills first appear in Chapter 1 Mission 1: Invasion Alert. Unlike in the other games, they cannot be destroyed by inflicting damage with normal weapons: damaging them will only temporarily close the Anthill and prevent it spawning enemies for a short time until it re-opens. Completely destroying them requires placing timed explosives on them. Like all interactions, placing explosives can be interrupted by the attacks of ants or other Ravagers. Giving supporting fire to keep enemies away from teammates is strongly encouraged while they are planting explosives.
2025 and 4.1
The same structures seen in 2017 are called Tunnel Exits in Earth Defense Force 2025 and Earth Defense Force 4.1: The Shadow of New Despair. They are first encountered in the mission Land Collapse, and can spawn most giant insect species and their Mutant variants, though they will never spawn Retiarii or Dragons.
They are of variable toughness depending on the precise mission, and sometimes Tunnel Exits of different toughness appear in the same mission. They can roughly be divided into "normal," "soft" and "hard" types. Using Inferno health as an example, a Tunnel Exit in Land Collapse has about 27,000 health, and they typically have about 10,000 more than a near-level Transport Ship. The DLC mission Dark Arena has "soft" exits with about 4,000 health, while one has about 290,000, tougher than an Argo. In 4.1 this mission features special glowing Exits, though this is purely so the player can see what they are doing in the dark chamber the mission now takes place in.
4.1's second DLC introduces a new hill-sized Large Tunnel Exit which can spawn boss-type insect enemies and their Mutant variants. Uniquely, some of these Exits only perform one-off spawns (presumably to keep surprise boss enemies off the map so they cannot be targeted early on) while others act as normal spawners, and they can spawn groups of normal enemies as well as bosses.