For the class of strikes used by the Air Raider, see Artillery Team.
Artillery is the eighteenth mission in Earth Defense Force 2025 and Earth Defense Force 4.1: The Shadow of New Despair. It introduces "artillery" Hectors with Plasma Cannons.
Objective
2025: Hector troop variants, probably long-range support models, have started a ferocious assault. They're armed with plasma cannons. We have to stop the Hectors making landfall and destroy them. Good luck.
4.1: Hector troop variants, probably long-range support models, have begun a ferocious assault, and they're armed with plasma cannons. We have to stop the Hectors from making landfall and destroy them. Good luck!
Storyline
The Tactics Officer kicks things off immediately by confirming the presence of bombardment Hectors, adding that they have plasma guns in their arms. HQ, thinking this entirely too helpful, declares that the Hectors are "bombardiers" and that long-distance battles are dangerous, ordering the EDF troops to "close in" on enemies that are almost all currently in the sea.
With his terrible idea quota fulfilled, the EDF get to work on destroying the Hectors. As their numbers wane, the Tactics Officer calls in that the armored unit fighting the Hectors lost, and the Vegalta M2s are all destroyed. HQ says this is impossible, and the Tactics Officer ignores him and continues that the cause is the "new walking machines" dropped by the enemy. She adds that Command Headquarters (the one HQ isn't) is now analysing the data.
As the first wave is defeated, the Tactics Officer calls that "bombardment Hectors are approaching." As this force crumbles, she calls back in, saying there is information regarding the new walking machine; it can deploy a Shield Screen, seemingly carrying some sort of generator. HQ gets in his baffling nonsequitur of the day by asking "you mean we suffered this much damage from a transport machine?" and the Operator, also ignoring him, says that attacks by the Vegaltas and air raids were both warded off, and with the Hectors protected thusly it turned into a one-sided battle.
Faced with something so straightforward even he can only mess it up once, HQ concludes it is the machine's purpose to protect other weapons, declaring this to be a "terrifying strategy" for some reason. Realising Ohara isn't around to get first dibs on naming things, he states that this enemy will now be called the "Shield Bearer."
4.1 Changes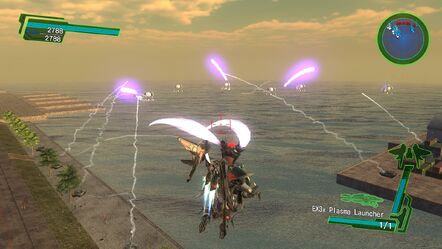 The start location is changed; rather than being in the warehouse area, it is up the road and to the right, on the waterfront. The scripted Ranger unit with rifles is no longer scripted and can be recruited.
The NPC sniper team has been replaced with a third rocket launcher team. More obviously, there are now six E551 Gigantus tanks on the waterfront; four in a line near the starting area and two with a rocket launcher team across the water in the warehouse area. Unfortunately this is no Preventing Landfall: these tanks have apparently not been very well, and their health is so low that they sometimes explode in a single hit.
The first three lines of the mission have been changed, probably because HQ's order to "close in" led to many players jumping into the sea on their first playthrough. The first line is omitted entirely, while the replacement second and third lines are HQ saying the Hectors have Plasma Cannons (rather than the Tactics Officer doing so) and then that the EDF cannot allow them to gain a beachhead, ordering the EDF soldiers to defend their position at any cost.
The spawn locations for the Hectors are essentially reversed; the first wave is now all in the ocean (rather than one on land), while the second has two on land. The two that start on land now have a Spark Launcher as their second weapon rather than a Particle Gatling Gun.
Enemies
2025:
2 waves of Hectors, first 6, all Plasma Cannon + Particle Gatling Gun, second 5, all 2 x Plasma Cannon
4.1:
2 waves of Hectors: first 6, 4 with Plasma Cannon + Particle Gatling Gun and 2 with Plasma Cannon + Spark Launcher, second 6, 4 with 2 x Plasma Cannon and 2 with Plasma Cannon + Spark Launcher
Online Limits
Armor Limit
There's no limit for Inferno difficulty.
Difficulty
Ranger & Air Raider
Wing Diver
Fencer
2025
4.1
2025
4.1
2025
4.1
Easy & Normal
600
592
350
346
751
740
Hard
1773
1851
936
975
2216
2313
Hardest
3182
3763
1641
1931
3977
4704
Weapon Level Limit
| | | | | |
| --- | --- | --- | --- | --- |
| Game | Easy & Normal | Hard | Hardest | Inferno |
| 2025 | 6 | 29 | 54 | 93 |
| 4.1 | 6 | 29 | 56 | 93 |
Approximate Weapon Drop Rate
| | | | | | |
| --- | --- | --- | --- | --- | --- |
| Game | Easy | Normal | Hard | Hardest | Inferno |
| 2025 | 0-3 | 1-5 | 13-25 | 0-50 | 0-59 |
| 4.1 | 0-3 | 0-4 | 15-30 | 0-51 | 0-59 |
Strategy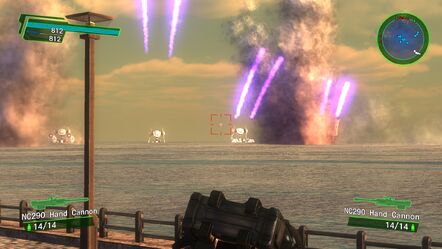 2025
This mission consists almost entirely of long-range combat to introduce the new bombardment Hector variant. The Plasma Cannon this variant uses is a huge tapered cylinder resembling a lance with the end cut off, with a purple glow in the tip, and is easily recognised even at long range. It functions like a mortar, lobbing a slow-moving purple bolt of plasma in an arc. It is the longest-ranged Hector weapon, with an aggro'd bombardment Hector able to fire shots across the entire map even without line of sight.
The Plasma Cannon also has the best per-shot damage of any Hector weapon until Blue Hectors show up, though this is balanced by being the slowest-firing. The impact has a fair splash radius and will throw characters caught in the blast a significant distance, taking quite some time to recover from. This is particularly nasty in this map since it can launch characters into the water.
The Plasma Cannon has to be charged up before it can fire, and makes a distinct noise as it does so, the purple glow in the barrel increasing in intensity to provide an additional visual cue. Since it is still attached to a Hector, it can be knocked off-target by hitting the Hector's body; this is important as Hectors are fond of using the weapon even at point-blank range. At range they seem to try to lead their shots, and so ceasing to move as soon as the Hector fires will often result in the projectiles landing in front of the player character.
Since this is all about killing Hectors at long range, a Ranger should bring his most powerful sniper rifle or rocket launcher; a Stringer, Lysander, or Goliath is ideal, with a Prominence being fine too if the Ranger has an Air Raider to spot for them.
For a Wing Diver a mission full of Hectors spells trouble; jumping on them with a Rapier requires waiting for them to come ashore (which they eventually will, usually either on the bridge leading to the warehouses or at the dock section where the final wave of Ants came ashore in Beach Fear), and so a flat-trajectory Plasma Launcher or a MONSTER sniper rifle are the best choices here.
The Air Raider has the easiest time since he has his Epsilon Armored Railgun, which this mission is practically made for. Even an E551 Gigantus is fine here if the player has mastered long-range firing with it, though. Bringing along strikes that are easily aimed at long range such as missiles or any of Nothung's satellite attacks is a good plan.
A Fencer can use this mission to practice long-range fire with his Hand Cannons or Gallic Heavy Cannon, or just cheat and bring Leviathans and a co-op Air Raider.
The mission begins with four Hectors in the water straight ahead and two on land along the road to the left and then ahead. A non-recruitable NPC Ranger unit with rifles will go down the road to the left, and the player should do likewise to deal with the ones on land first. Dotted around the map are three more allied teams; two with rocket launchers and one with sniper rifles. These three teams can be recruited.
It is worth noting that the water in this map is a cosmetic effect only as far as weapons are concerned; shots will just pass through it, and so it is fine to target the lower body of the Hector or try to hit the sea floor it is walking on.
Following the destruction of the first wave a second will spawn, this time all equipped with twin Plasma Cannons. This is quite a lot more dangerous at long range, but since their shots are slow they are still fairly easy to dodge. Four spawn in the ocean, while the last one will spawn on land where the previous two were, next to the warehouses where the final group of Retiarii were in Beach Fear.
Sadly almost all of the drops in this mission are likely to end up totally inaccessible at the bottom of the harbor.
4.1
This is largely another "same but easier" mission: the EDF tanks only make a slight difference since they are so fragile. The main difference is the two land Hectors with Spark Launchers, which are a greater threat to any character on foot and should be made an immediate priority.
If playing as an Air Raider, the tanks can be made a little more effective by using Guard and Power Posts in their vicinity; a high-level Guard Post will at least allow them to survive a near-miss.
Levels: Earth Defense Force 2025 DLC
DLC 1: Special Forces

Exploration

•

Giant's Advance

•

Silver Camp

•

Citadel

•

Floating Fleet

DLC 2: Mutant Rampage

Advance

•

Mountain Assault

•

Enemy Camp Infiltration

•

Underground Advance

•

Giant Robots

•

Battle Species

•

Beast Mountain

•

Dark Arena

•

Gathering Around

•

Armored Species

•

Iron Wall

•

Mountain of Change

•

Whirlwind of Death

•

Bugged City

•

The Tough

•

Golden Darkness

•

True King

•

Final Impact

•

Into Destruction

•

Ship of Dragons

DLC 3: Beyond Despair

Tracking

•

Underground Complex

•

Blocked Pass

•

Close Formation

•

Dragon Ship Fleet

•

Heavy Artillery

•

Bloody River

•

Dangerous Goldmines

•

Beast Mobilization

•

Total Protection

•

Aerial Bombing

•

King of Armor

•

Cannon Defenders

•

Traps Behind

•

Four Kings of Nightmares

•

Resistance Against the Twilight

•

Shivering Nexus

•

Three Giants

•

Crimson Lotus

•

Starry Prison
Levels: Earth Defense Force 4.1 DLC
DLC 1: Time of the Mutants

Air Offensive

•

Giants Advance

•

Recon

•

Dust Town

•

Defense Line

•

Underground Advance

•

War Breed

•

Mountain Assault

•

Enemy Camp Infiltration

•

Dark Arena

•

Beast Mountain

•

God's Army

•

The Gathering

•

Armored Species

•

Iron Wall

•

Silver Base

•

Shifting Mountain

•

Whirlwind of Death

•

Bugged City

•

Toughness

•

Golden Darkness

•

True Sovereign

•

Final Impact

•

Floating Fleet

•

Into Destruction

•

Ship of Dragons

DLC 2: Extreme Battle

Tracking Bogeys

•

Underground Complex

•

Blocked Pass

•

Close Formation

•

Dragon Ship Fleet

•

Heavy Artillery

•

Overflight

•

Dangerous Goldmines

•

Beast Mobilization

•

Total Protection

•

Bombs Away

•

King of Armor

•

Cannon Defenders

•

Bloody River

•

Three Giants

•

Traps from Behind

•

The Four Horsemen

•

Cross the Line

•

Facing Off

•

Crimson Lotus

•

Shivering Nexus

•

Last Bastion

•

Starry Prison