Firebase Clyde is the second level of the first chapter of EDF: Insect Armageddon. Strike Force Lightning (the players' characters) attempt to defend an EDF base as the Ravagers step up the game.
Basic Information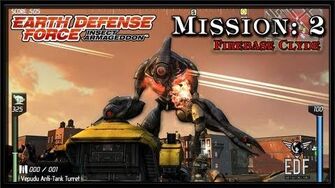 MISSION: Firebase Clyde
OBJECTIVE: New Detroit
SECTOR: Residential District
Lightning is ordered to lend a hand to Strike Force Sabre in retaking a firebase. The hunt for the giant Ravager continues...
Previous Mission: Invasion Alert
Following Mission: On the Run
Objectives
Secure Firebase Clyde.
Move to the new Rally Point.
Destroy 3x Anthills and all Ravagers.
Proceed to the Extraction Point.
Enemies