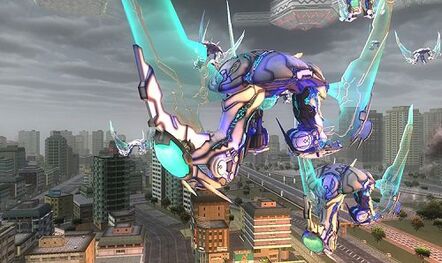 Flight Vehicles or Flying Vehicles are a Ravager aerial unit in Earth Defense Force 2025 and Earth Defense Force 4.1: The Shadow of New Despair. In being an upgraded drone with different armament and flight characteristics, they are somewhat similar to the Imperial Guard flying vehicles that accompanied the Floating City Adan in Global Defence Force.
Description
The Flight Vehicle has an appearance which suggests an unholy union between a Shield Bearer and a Flying Drone. They are slower-moving than Flying Drones, but have about twice as much health and a much more dangerous attack, and also have the threatening ability to fly without crashing into random objects every three seconds.
They first appear in the mission Annihilation where they are deployed from the hangar panels of Earth Eaters. They commonly accompany Earth Eaters and can also be deployed by Large Transport Ships and Quadruped Fortresses.
Flight Vehicles will circle over a target and descend until they are within attack range, then move away and commence an attack run. They attack with a sweeping rapid-fire laser that they "feel" for a target with as if blind; once the laser touches a target it will lock on to that target and fire until the Flight Vehicle has passed it by, whereupon it will circle around for another run. The lock can be broken by rolling as a Ranger or Air Raider or dashing as a Fencer, though the Flight Vehicle will try to re-acquire the lock immediately and so constant rolls or dashes are needed.
Unfortunately for a Wing Diver they have no move for breaking the lock other than moving out of the Vehicle's arc of fire, and the Flight Vehicle's laser works like the turrets of a Quadruped Fortress, creating a mid-air stun state that is very difficult to escape from. Luckily the Flight Vehicle shares the Flying Drone's inability to fire upwards, and since their weapon is still direct-fire, it is possible to shelter from it by hiding in a space between two buildings, though Flight Vehicles will very quickly start making runs straight along such a gap.
Red Flight Vehicle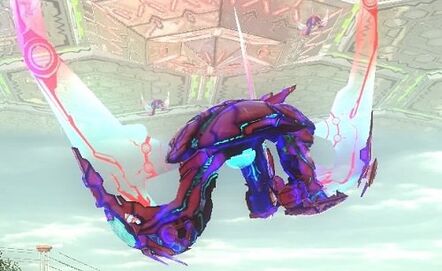 Exclusive to 4.1's second DLC, this vehicle is roughly analogous to a Red Drone. It is about fifteen times tougher than a standard Flight Vehicle and incredibly fast, so much so that even slower missile weapons cannot keep up with it.
The laser is also powered up, though unlike the weapon of a Red Drone it functions in the same way. Since Red Flight Vehicles are so fast, though, their attack runs are by necessity shorter and so they do not have the same long-term focused damage of their slower brethren. They can, however, compensate for this with a new move where they flip completely over while shooting to target the same area multiple times, which is very dangerous indeed. They also have a superior vertical arc for their laser.