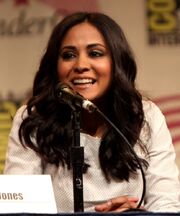 Ops is the EDF Operational Liaison who guides Strike Force Lightning throughout their missions in Insect Armageddon. She first appears in the first chapter and gives out mission objectives during the course of the game. She eventually develops a rivalry with Intel as his helpful information gets worse and worse, seemingly suspecting him to be holding back.
After defeating the Queen Ant, Strike Force Lightning set a bomb up to take out the Ravagers. Intel reveals that there is no way to save them in time. Defying Intel, Ops and Sulley try to save them.
Trivia
Ops is voiced by Parminder Nagra.
Ops is never actually seen during the game, only heard.
Ops claims her real name is "Roger Ops"