For the Trooper class from Earth Defense Force: Iron Rain, see Trooper.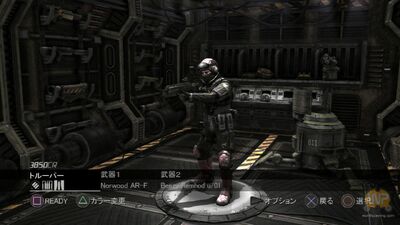 The trooper armor is an armor type found in Earth Defense Force Insect Armageddon. While using the trooper armor, the player has no special abilities, but has utility improvements such as faster revives, greater health gain from pickups, and further dodges. It is the American analog of the Japanese Ranger in all other games. Like the ranger, the trooper is built as a default class, which is easy to "pick up and play" for even novice players.
Description
Earth Defense Force Insect Armageddon describes this armor as follows:
Trooper Armor is Standard Issue for the Soldiers of the Earth Defense Force. It is designed for maximum mobility. The Trooper Armor lacks the shielding and power system found in the advanced armors, but has definite advantages of its own. With experience and time spent in this armor, a soldier can run faster, evade more easily, reload weapons faster and revive fallen comrades more quickly than any of the other armors. The Trooper Armor also allows use of a number of unique weapon variants.
Primary Roles
General Combat, Maximum Ground Mobility and Medic Proficiency
Damage Mitigation: Low
Movement Speed: High
Special Attributes: None
Weakness: Least protection
Defensive Move: Dodge Roll
Weapons: Assault Rifles, Shotguns, Grenade Launchers, Rocket Launchers, Missile Launchers, Sniper Rifles.
Armor
As a player levels up the trooper armor, he gains additional powers.
This section is a stub, you can help by expanding it.