In the EDF series, vehicles are a special resource which can be accessed by infantry to grant them increased firepower, mobility and / or protection. The choice of vehicles has across the series included walking machines, tanks, helicopters and a host of other ground vehicles.
Vehicles have their own health distinct from that of the character inside them, and the character will not take damage for as long as they are inside. Typically, they will also not take damage if the vehicle is destroyed while they are in it.
Monster Attack-2017
These games tend to have the same selection of vehicles: the SDL2, E551 Gigantus and EF24 Bazelart appear in all of them, while the BM03 Vegalta is exclusive to 2017. Vehicles in these games are found placed in fixed locations on specific maps and have stats scaled to the current difficulty, and have infinite ammunition.
Insect Armageddon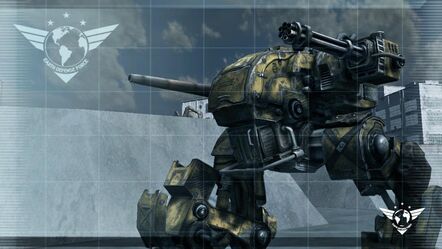 Earth Defense Force: Insect Armageddon does not feature any vehicle seen in other games. It instead includes three types of its own, the Sceptrum III Battletank, four types of fixed turret, and the Mech, a walker with a cannon and machine gun. Characters also several times occupy the gun position on VTOL aircraft referred to as Landers, though they never control the aircraft itself.
Unlike other games in the series, NPC soldiers are capable of getting into and out of vehicles freely; they can both drive them and operate the secondary weapons if the vehicle has any.
Another unique, if not exactly welcome, feature of vehicles in Insect Armageddon is that the usual explosion-proof vest does not seem to have been issued to American EDF forces, and so if a vehicle explodes while still occupied, those inside will receive damage.
EDF 2025
In Earth Defense Force 2025 pre-placed vehicles are almost entirely removed from maps; there is only one online-only mission that has one, and that one is always a level 28 version in 2025. Instead, a new soldier class, the Air Raider, is able to call for vehicles to be dropped into the current map via helicopter using a system referred to as reload credits. The Air Raider's vehicles no longer scale to the current map and difficulty, and are now included in the same level system as handheld weapons. Only the Air Raider and the Ranger soldier classes can occupy the driver's position of a vehicle, with other characters restricted to secondary positions if the vehicle has them.
Vehicles now have limited ammunition, and there is no way to reload them once they run out; an empty vehicle means calling in a new one.
Since 2025 is designed with online play in mind, there are several special multi-seat vehicles which can either transport multiple characters or have powerful weapons they can access. The biggest examples of this are the HU04 Brute helicopter and BMX10 Proteus walker, neither of which has any weapon the driver can operate.
Vehicles cannot be deployed in underground missions in this game.
A variety of vehicles the player cannot directly control are also encountered, some only heard of in the background. The most prevalent are Charon Tactical Bombers, aircraft that are used for scripted strikes in the game and can also be called in for strikes by the Air Raider class. Larger offscreen vehicles include the gunship Whale and the 1,400-metre Fortress Aircraft Carrier Despina, a mighty warship which can aid the Air Raider with missile strikes and has a role in the last third of the story.
Controllable vehicles
Tanks
Ground Vehicles
Naegling Self-Propelled Rocket Launcher
SDL1 (this should probably not be in a list of controllable vehicles)
Helicopters
Power Suits
EDF 4.1
Earth Defense Force 4.1: The Shadow of New Despair is the next-gen remake of 2025 and has the same mechanics and vehicles for the most part, introducing two more in the "power suits" category. In addition, two exceptions were made to the original game's "no vehicles underground" rule: the Air Raider can now deploy the new Depth Crawler and the SDL1 motorcyle.
Vehicles spawned by default in missions now scale their stats to the current difficulty, which can result in them having stats higher than any deployable version. This applies to both the Proteus walker already in 2025 which is no longer completely useless at higher difficulties, and some new missions that feature a pre-deployed Walking Fortress Balam.
NPC vehicles are also added to numerous missions. These tend to follow fixed paths or act as stationary turrets and cannot use any secondary weapons they have, but have infinite ammunition.
Controllable vehicles
Tanks
Ground Vehicles
Naegling Self-Propelled Rocket Launcher
Helicopters
Power Suits
EDF 5
EDF: Iron Rain
Earth Defense Force: Iron Rain features several classes of vehicles, some of which are reminiscent of those seen in core-series games (including tanks and bipedal mech suits) while others are more unique (such as a tank with an enormous drill attached). Vehicles in Iron Rain count as items, meaning they can be requested and piloted by characters wearing any type of PA Gear, provided they have the required item capacity. As with all items, using vehicles will deduct an amount from the reward earned on completion of the mission being played.